Dawn Gay rounds up some of the best products to stock up on for this holiday season
Holidaymakers' habits are more diverse than ever before, according to ABTA, with consumers opting for a cocktail of long haul, city breaks, adventure and domestic holidays. Pharmacists can home in on the holiday health market by maximising returns from both new and established products and via cross-category marketing.
Making a splash
Lengthy exposure to the swimming pool or ocean on holiday can wash away ear wax and expose the ear canal, leading to otitis externa, or swimmer's ear. Holidays can be spoiled by ear pain, itchiness, discharge or pus from the ear canal and, in some cases, temporary hearing loss.
Pharmacists can advise sufferers to wear a swimming cap or earplugs, avoid using cotton buds, and to plug the ears with petroleum jelly-coated cotton wool when bathing. If a perforated eardrum is suspected, or the customer is complaining of fever, nausea, vomiting, dizziness or loss of appetite, they should be referred to their GP.
Pharmacists can also recommend packing drops or sprays to treat and prevent swimmer's ear on holiday. EarCalm Spray is the only OTC treatment available recommended for such superficial infections of the external auditory canal. The 5ml spray contains acetic acid to discourage the growth of bacteria and can be used by children over the age of 12.
As a preventative, pharmacists can stock SwimSeal natural eardrops, which protect the ear canal with a natural tea tree and liquid silicon formulation. A couple of drops of SwimSeal can be used as an alternative to ear plugs in the pool and can be used in children and babies aged over six months.
Going local
ABTA reports that more travellers than ever are 'going local' and embracing authentic holiday experiences. Specialist travel ranges, like Pyramid Travel Products, provide a comprehensive one-stop-shop for outdoor and adventurous types, supplying useful 'travel kit' products – from water purifying droplets, to mosquito nets and insect repellent products. Pyramid also works with the London Hospital of Tropical Diseases and Edinburgh University to develop its insect protection products.
Pyramid has added a new sensitive repellent to its DEET-free range, suitable for use in non-malarial areas and Europe. Repel Sensitive can be used by people with sensitive skin, pregnant women, and on children over two years.
Easing travel sickness
Long journeys can prove a stomach churning experience for those who are prone to motion sickness. To prevent sickly symptoms, pharmacists can display natural travel sickness prevention brands, like Nelsons Travella, an over the counter, non-drowsy, homeopathic treatment.
Brand manager Emma Wright says: "Nelsons Travella, a combination of several homeopathic remedies, helps bring relief from the unpleasant symptoms associated with travel sickness. It is suitable for all the family and is non-drowsy. As consumers are becoming increasingly open to exploring natural and homeopathic treatments on offer, we are confident that more consumers will try this product."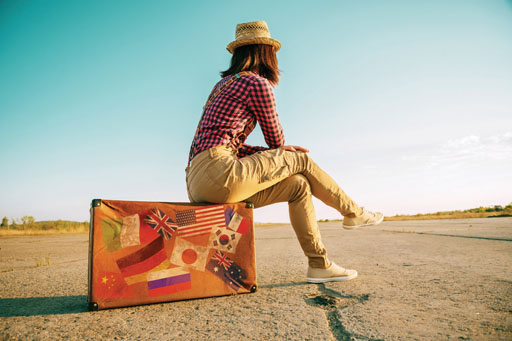 For stomach bugs
To combat travellers' stomach bugs, pharmacists can stock Enterosgel, a new toxin-binding gel that works in the gut helping to prevent and ease symptoms of food  poisoning, vomiting bugs and diarrhea. Elena Markaryan, CEO of manufacturer Enteromed, says: "There is a 60 per cent risk of getting tummy bugs while travelling, according to the National Protection Agency. However this new innovative intestinal adsorbent, recommended by specialists at the World Health Organisation in cases of food poisoning, can help. It is an OTC medical device class IIA and can be recommended for all types of travellers, from babies and pregnant mums to IBS patients," she adds.
Staying hydrated
Doctor and spokesperson for Dioralyte Dr Roger Henderson says: "People travelling abroad often pick up gastroenteritis because of altered hygiene habits when on holiday. Poor hygiene practices in some hotels and restaurants can increase the likelihood of picking up holiday bugs, as can travelling in close proximity to large numbers of people, such as on a cruise ship." The World Health Organisation lists oral rehydration solutions on its WHO Model List of Essential Medicines.
Dioralyte remains the number one selling rehydration brand, which helps the body reabsorb fluids and electrolytes. Packets of six sachets are now available in blackcurrant, citrus and natural flavour.
Soluble ORS Hydration Tablets, manufactured and marketed by Clinova, are receiving a marketing and PR makeover in 2015. A million pound TV advertising campaign will appear across Channel 4, ITV and Sky Sports, while print adverts will appear in the Daily Mail, The Times and The Sun.
The hydration tablets are Yorkshire County Cricket Club's 'official hydration drink' and have been used by the Lotus F1 Team, Irish Rugby team and Southampton Football Club.
Holiday headaches
RB is supporting its fast-acting ibuprofen brand, Nurofen Express, with a high profile campaign running through the summer until August.
The £4 million campaign includes six months' worth of TV airtime and print advertising focusing on tension headaches. The campaign will target commuters before their summer holidays with adverts on trains and videos across the London Underground.
Bladder weakness
Holiday time can be stressful for the 50 per cent of women that suffer from bladder weakness. Donna Wilson, TENA training and brand manager, says pharmacy staff have a vital role to play in offering practical advice to help their customers feel at ease before they travel. She says: "Recent results from TENA revealed that one in six women will get most of their health information from pharmacy staff, so being well-informed about light bladder weakness is now more important than ever before."
Pharmacists can offer tips to manage light bladder weakness on holiday, says Ms Wilson. For example, making sure that there are adequate facilities on coach journeys, requesting seats close to the toilets when flying, and noting service stations before a long car journey.
Newly-packaged Lights by TENA Liners can be packed discreetly for travelling. "Stocking up on suitable protection products prior to travel means your customer should have everything they need to manage their light bladder weakness away from home. Specifically designed for light bladder weakness, Lights by TENA Liners absorb more and absorb faster than regular liners. At just 3.5mm thick they are incredibly thin and discreet, so are perfect for customers to pop into their luggage. Boasting all the security and comfort you would expect from the UK's leading bladder weakness brand, the Lights by TENA Liner even comes single-wrapped so they can be discreetly stored in hand luggage or handbags."
Sunscreen news
With a product heritage of 40 years, Boston Healthcare is keeping its Uvistat sunscreen range relevant with the appointment of a new ambassador. The brand has appointed Yorkshire County Cricket and England international wicket keeper Jonny Bairstow as its brand ambassador for events, advertising and digital campaigns.
Fair-skinned Bairstow says: "I am delighted to be working with Boston Healthcare across their Uvistat sun care range. As a professional cricketer, we have to be conscious of the risks associated with being in the sun for prolonged periods of time and sun protection plays a big part in match preparation. With Uvistat's reputation and five-star rating I know I am in safe hands."
Piz Buin has been rolling out its new Instant Glow Skin Illuminating Sun Spray SPF 15 and 30 since March this year. The new addition to the range is formulated to give the skin a 'golden shimmer', as well as protect from the sun's harmful UV rays.
http://www.independentpharmacist.co.uk/suitcase-essentials-for-2015